Summer is upon us. I'm not going to lie- I don't like Summer. I don't like the heat. I am not a fan of the AC bill. All the fun places I take my homeschooled kids are now PACKED and I don;t want to go any more. This sounds awful. I am a creature of comfort and Summer makes me uncomfortable. There is however something I love about Summer- the fact that people like to visit and I get to entertain more often. That means coming up with light crowd friendly meals and I LOVE recipe testing and sharing. SO, here are a few tasty simple recipes that are great for Summer 2016. ENJOY !
This comes from an amazing blog, Half Bakes Harvest. Heard of it? If not make sure you check it out. I have yet to try a recipe from her that we didn't love! Here is the recipe for Coconut-Lime Fried Shrimp. The photo below is from her site as well…Coconut-Lime Fried Fish
Seriously….I mean YUM!
Refreshing and spicy, savory and sweet. This shrimp is EVERYTHING.
For something a little lighter try this fantastic Seared Steak in Lettuce Cups from Bon Appetit. I double this recipe because, well, we eat a lot. No excuses.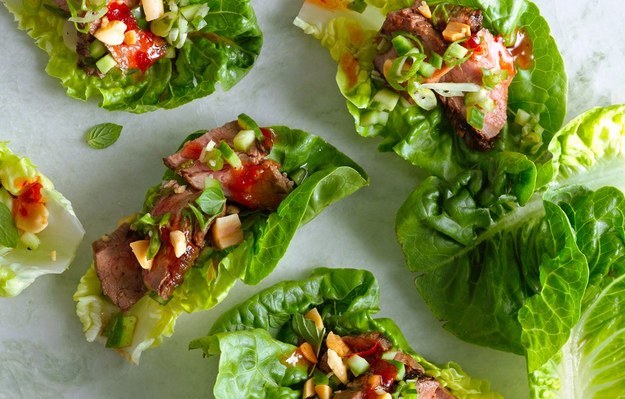 Upgrade your sandwiches to a delicious muffuletta! No cooking is a great idea in the Summer and this type of sandwich is filling and tasty. While your choice of meat is always an option I highly suggest you try porchetta. Porchetta is a seasoned roasted pork and is carried by most delis. It is worth a try! This bread is traditional in New Orleans but you can easily substitute a round Italian loaf or even foccacia. Here is the recipe I like most from Southern Living.
Next on the menu is a wonderful fish taco. There are plenty of options when choosing fish for taco night but I like Tilapia. I think you will too. Paired with a little spiciness and cool creamy avocado, these tacos are delightful. Check out this simple recipe:
Have you noticed that none of these recipes call for a grill? Not all Summer cooking has to be done outdoors. This is only Part 1 of my summer cooking posts. The next will offer up 5 grill recipes. For now, get started indoors and enjoy your dinner at the table or on the patio!