Salads are a beautiful and simple way to load your body with healthy vegetables. The downside of a salad for so many is their choice of salad dressing. Store bought dressing are sometimes LOADED with fat, sugar and sodium. I have found, even though their are healthy store bought options available, that homemade is definitely best. Salad dressing ingredients are not expensive, a little goes a long way, you can control the amounts of each ingredient and I find they simply taste much better. I have gone through my recipe lists and found my favorite 5 go to salad dressings.
FYI I have this awesome dressing container from Pampered Chef. You can get one here and make your life easier. This container actually has a few dressing recipes right on it's side!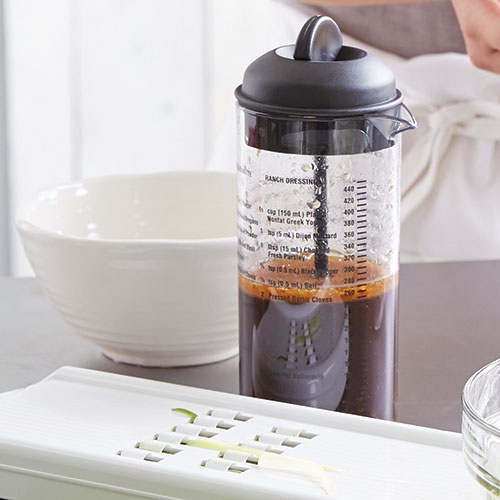 Basic Vinaigrette
This is one of the easiest and most versatile salad dressing you can make. The ingredients are common pantry items.
Ingredients:
1/2 cup (125 mL) vegetable or olive oil
1/4 cup (50 mL) balsamic or white wine vinegar
1/2 tbsp (7 mL) sugar or honey
1   garlic clove, pressed
1/2 tsp (2 mL) Italian seasoning
1/4 tsp (1 mL) salt
Combine all ingredients and mix or shake well.
Tangy Orange Dressing
I love this dressing on autumn inspired salads with cranberries or walnuts.
Ingredients:
2 oranges
1/3 cup fat-free mayonnaise
2 tablespoons stone-ground mustard
2 teaspoons sugar
1/4 teaspoon each salt and ground black pepper
1 small garlic clove, pressed
Zest on juice the orange. Use 2 teaspoons of zest, 1/2 cup of juice. Mix zest and all other ingredients EXCEPT the orange juice well. Then slowly whisk in a thin stream of orange juice until well blended.
Creamy Southwestern Salad
A perfect dressing for Cobb Salads or days when you are looking for a little kick in your salad. You can find a Southwester Seasoning Mix in most grocery stores. It is worth the purchase because you can use it on any meat.
Mix ingredients and blend well. Set aside in refrigerator for about an hour.
Asian Dressing
This pairs well with slaw like salads and well and green salads
1/3 cup rice vinegar
3 tablespoons soy sauce
2 teaspoons sugar
1   pressed garlic clove
1/4 teaspoon ground ginger
3/4 cup vegetable oil
Combine all ingredients well and store in refrigerator until ready to use.
Lightened Up Ranch
A little lighter than store bought, this ranch uses Greek yogurt for it's creamy texture. Perfect for salad topping or dipping veggies!
1/2 cup (125 mL) low-fat buttermilk
2/3 cup (150 mL) plain nonfat Greek yogurt
2   garlic cloves, pressed
1 tsp (5 mL) Dijon mustard
1 tbsp (15 mL) fresh parsley, chopped
1/8 tsp (0.5 mL) each salt and black pepper
Mix all ingredients and blend well. Refrigerate until ready to use.
I love making my own dressing and will definitely share more with you all in the future. ENJOY!!!!